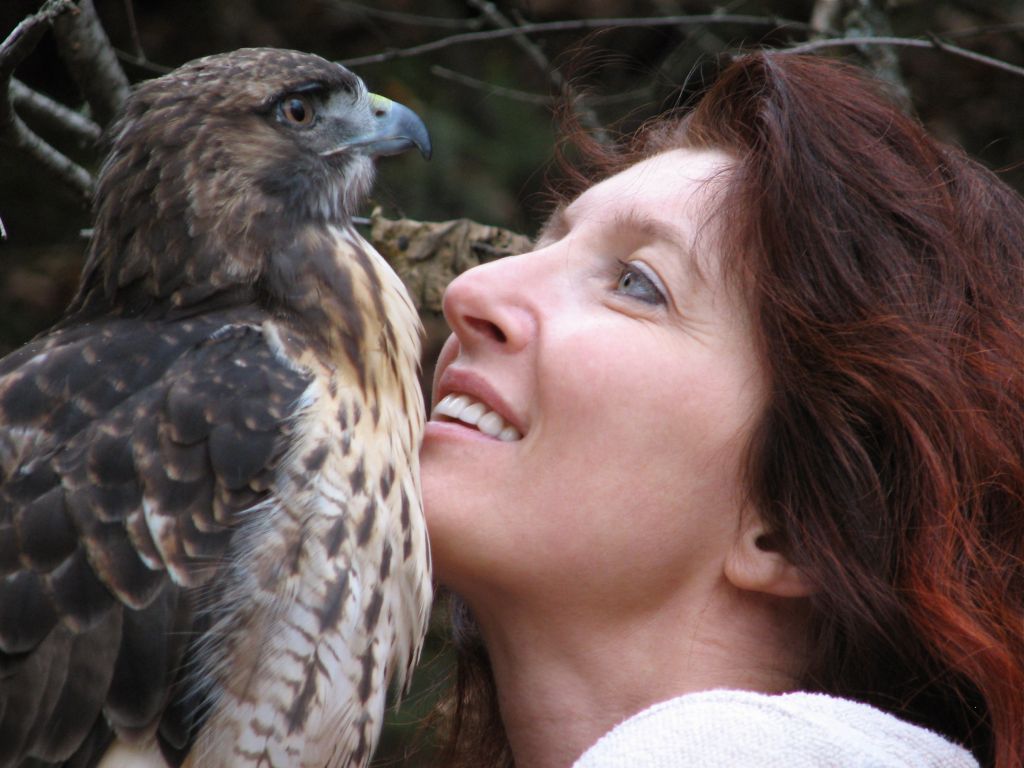 I
n 2008, our first Red Tail buzzard, 'Thorn', was tapped to feature in the opening sequence of an episode of "Smallville".
It was an incredibly exciting opportunity.
I'd only just begun to solidify the concept of working in film with the Feathered, and I was determined to prepare 'Thorn' as completely as possible. If this was to become the avenue through which to share my passion for these beings, it was tremendously important to me to "get it right" from the outset.
Had I actually known just how pivotal his performance was to the story of "Veritas", I'd have been much more anxious, so it was probably a blessing no one mentioned – until the morning of the shoot, that 'Thorn'/Brainiac had to fly into the barn, or "there'll be no episode". Yikes!
'Thorn' and I spent two days getting comfortable with what everyone recognizes as the outdoor environs of the Kent family-farm. We'd done our homework, and I knew my boy could – and would, pull it off.
As it turned out, 'Thorn' was so much on his game on-the-day, the director, James Marshall, asked him to perform the shot no less than six times to ensure he had as many great options for the editing team as possible.
'Thorn did not disappoint.
This auspicious beginning was soon followed by the magical opportunity to contribute to "Divine: The Series" in 2010.
Director Ivan Hayden and I had an amazing conversation; as we discussed the storyline though, it soon became apparent Scorn's 'familiar' had to have presence, and I suggested a hawk for the role.
The challenge? While we sat and enjoyed a coffee, and Ivan shared the history of his graphic-novel concept, 'Mohave' was only a few weeks old, and being hand-reared in Quebec – he wasn't due to come under my stewardship for another two months!
In fact by the time filming commenced early in 2011, our beautiful Companion had only been with me for two and a-half weeks. Regardless, 'Mohave' handled the complicated, bizarre and routinely busy environment that is life on-set as if he were born to it.
We've had many, many adventures since then…
Among other projects, "Team Feathers" has appeared in everything from the "Habitat Cabaret" live theatre event, to NBC's "Siberia", indy and feature films such as "The Battle of Burgledorf" and "Aloft", and more recently, the heavy-metal music-video "Cleanse the Bloodlines" – shot in its entirety here, at 'Falcon's Rest'.
The Feathered have even appeared in the pages of "iMute magazine's " anniversary issue, (the "ShapeShifter" layout) with their friend Sheena.
The creative process makes all the long hours on-set worthwhile, because we believe in telling stories, and in story-tellers.
More than anything, its my desire to support writers and Directors conceptualizing web-series, TV shows and films – even fantastical ones, with the "Truthful" involvement of birds-of-prey as powerful, many-faceted living elements to their storylines.
We love this work, and will travel anywhere on Earth to see it done with the sense of magnificence your project deserves. Let's start a conversation.