The Weekend (2-day) "Introduction to Falconry"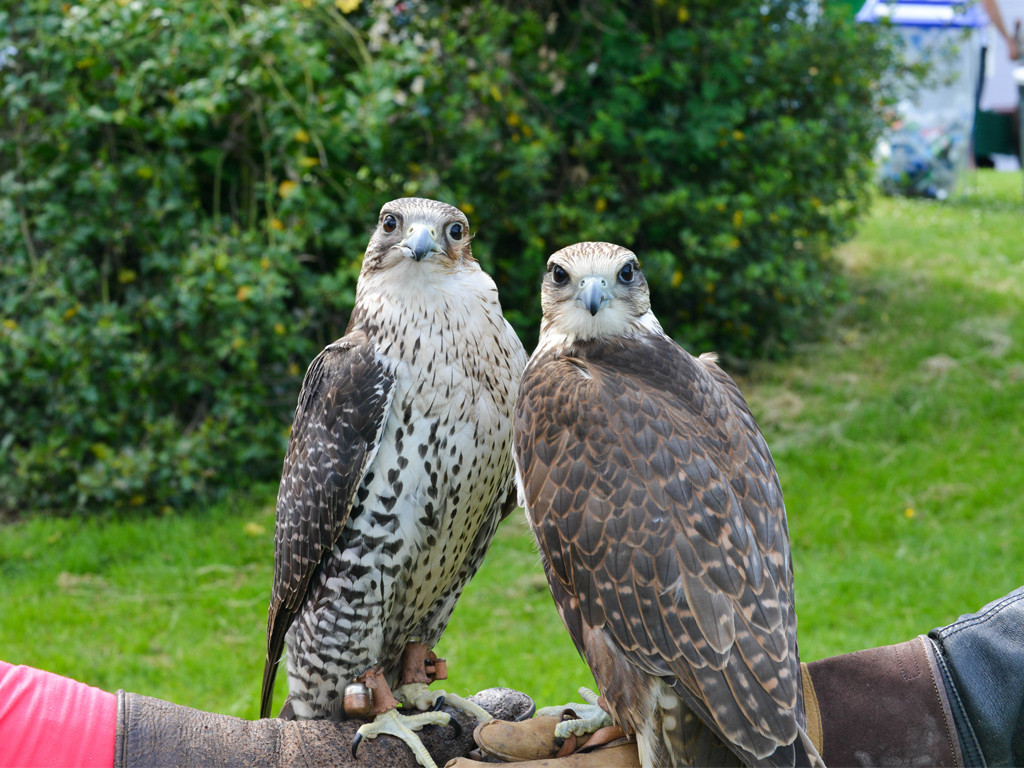 You're a birder, a wildlife enthusiast, or someone who's "always dreamed of working with raptors".
Maybe you're wondering how much work comes with stewarding a bird-of-prey, or perhaps you're just looking to enjoy the experience of being next to them for a weekend. Either way, our 2-day program develops all the fundamental handling skills needed to either start you on your journey, or satisfy some of those questions you've longed to answer.
Our two-day session imparts solid skill-building, and forms Joanne's minimum standard of knowledge for being considered as a volunteer, or (perhaps) a working assistant's position.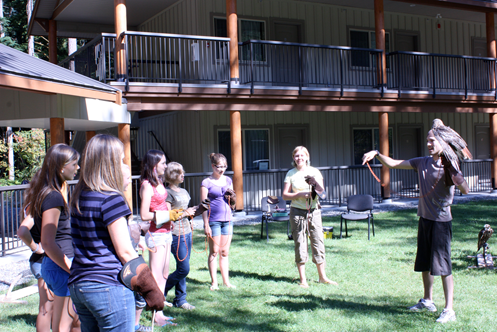 We'll start out with a brief summary on the history of Falconry – where it began, how long its been a part of the human experience, and the Art's continued relevancy in the 21st Century. Then, we'll roll up our sleeves.
Its time at this point to get outside and meet "Team Feathers", and learn how to respectfully approach them. Afterwards, while taking the Feathered for a walk, (referred to as "manning"), students begin sensitizing themselves to how raptors communicate with their human stewards, thus acquiring a coarse grasp of the rudiments of raptor body language.
Returning to the studio, the discussion turns to the more common health ailments encountered in the stewardship of raptors, such as 'Bumblefoot', and aspergillosis. This leads nicely into your first opportunity to clean their feet!
After the lunch-break, participants are introduced to footage comparing real flight differences between falcons and hawks, and some great material from the scientific team who established – once and for all – the verified top speed of the fastest living being on Earth: the Peregrine falcon.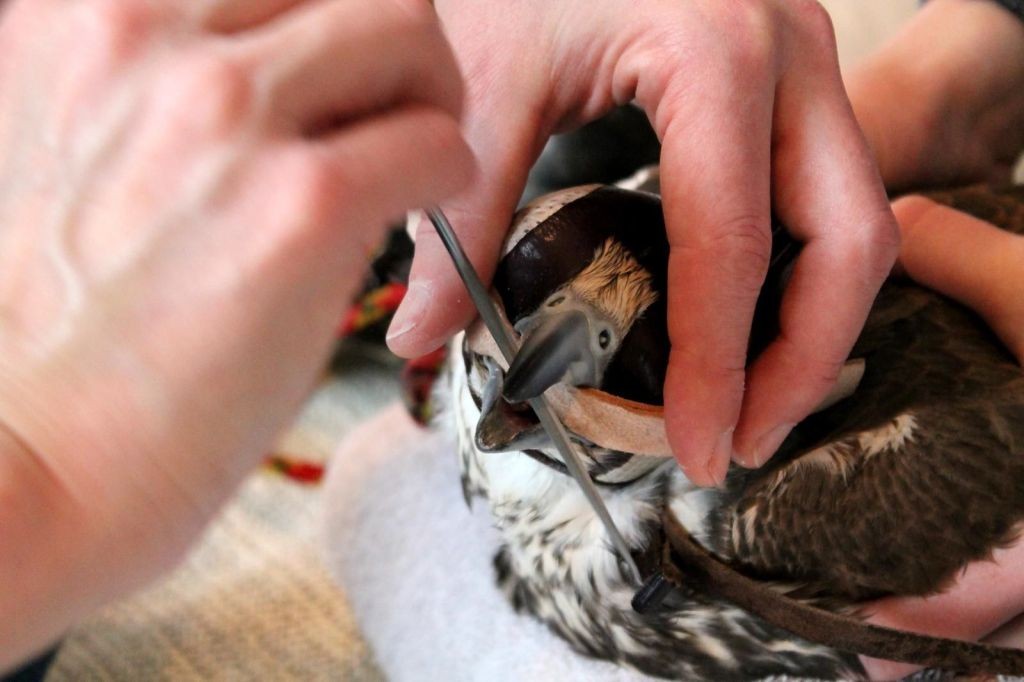 If there's time before the first day's flying session, there'll be a coping (ie: "raptor dentistry"), or equipment making demonstration (ie: jesses, aylmeri).
Its then time to head out onto the 'Rest to get in some flying; students will cap off a very full first day by learning basic lure-swinging technique, and flying our Red Tail to the glove.
The following day we'll recap all of the physical techniques introduced the previous day, including another session of "manning". For anyone needing it, fresh coffee will be waiting for our return.
We'll now cover 'casting' – the act of safely holding a bird-of-prey to enable coping, first-aid, or "dressing" (putting anklets and jesses in-place). Casting is a nuanced skill – not a wrestling match, and takes considerable practice to develop confidence.
Whichever demonstration was not covered the previous day will now be discussed and demonstrated.
It's once again time to head back out to the outdoor "Classroom" for more flying! Students will again practice their basic lure-swing with the falcons, and enjoy some shared following-on games with 'Mohave'.
Students are encouraged to take notes, ask questions, and take lots of photographs – handouts and pens are provided. We'll also pause for a 1-hour lunch break each day – a bar-b-que style affair at Falcon's Rest.
The 2-day "Intro to Falconry" is a fabulous, thoughtful gift to give your loved-one any time. We've even had couples join us on this course to celebrate anniversaries, or to surprise each other with a wonderful "mystery date"!
Our weekend Falconry program is also a great 'teaser' for the young adult in your family who's considering a career in veterinary medicine, and an excellent adjunct experience for those all ready involved in veterinary care or rehabilitation work, (we've been honoured to have several vets take our program since 2009).
It almost goes without saying anyone who feels the powerful desire to learn more about birds-of-prey in a safe, beautiful, and relaxed setting will love this experience too!
Course Price: $300.00 – Contact Us to Book
Please Note
Every effort is made to ensure the interactions between "Team Feathers" and our guests are safe. This said, birds-of-prey are not pets, and thus must be approached with respect.
The minimum age for participation in our course offerings is 12yrs, with parent accompaniment to age 14.
"Team Feathers" visit their friend, Dr. Chris Collis DVM, for yearly physical assessments, and to be certified healthy and disease-free. This is incredibly important to us as our feathered-companions are involved in work which routinely puts them up-close-and-personal with professional performers, and the public.
All course fees must be paid in full prior to attendance. As we limit the number of participants in our programs to enable the best possible ratio of student-to-mentor interaction, we often have wait lists of individuals hoping to join us last-minute. In consideration of others, we ask for your understanding and respect for this requirement.
A non-refundable admin-fee of $75 will be levied for no-shows, and cancellations.