Scirocco
In the late-summer of 2017, at the peak of the dangerous forest-fire season, two young falcons joined "Team Feathers".
This was a stressful and dangerous time, at 'Falcon's Rest'. For the second time that summer, we found ourselves under an Evacuation Alert, and the large fire devouring the midsection of BC was inexorably drawing closer to our precious and beautiful sanctuary.
At our request, their Vancouver Island breeder had kept our two youngsters for several additional weeks; the fact was we literally did not know if emergency services personnel would appear in the middle of the night, at some point, demanding we "bug out" because of the looming forest fires. Unfortunately, a point was reached where the breeder could no longer house our new companions, and the falcons were shipped north to join us.
From the moment 'Scirocco' emerged from his travel crate, this lovely boy's confidence and self-possession – two traits common to full-blooded Peregrines, was on full display.
I was struck by the long moustaches curving across his cheeks, and the piercing, hooded glare he gave to everything around us, and prayed I'd be able to get him up into the air soon just to watch him channel his sire's genetics.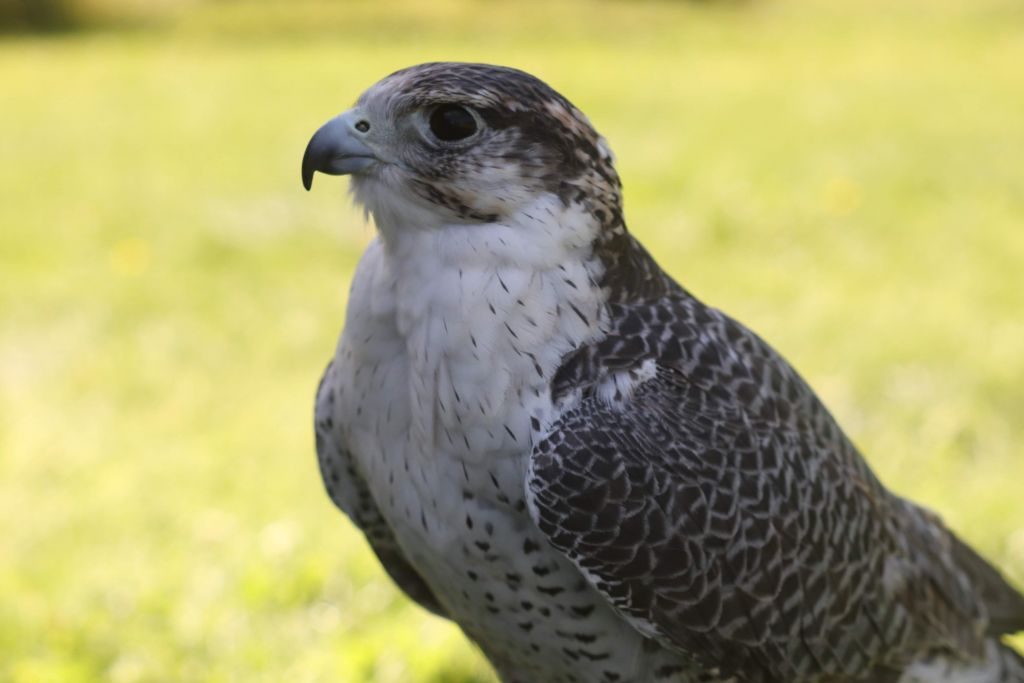 Thus far, 'Scirocco's' work has been limited to appearances at the Victoria Highland Games, and Camp Squeah, where he has proved incredibly flexible in being approached and handled by many new friends.
We look forward with tremendous anticipation to the day he's offered the chance to demonstrate his flight-mastery for the camera!
Team Feathers